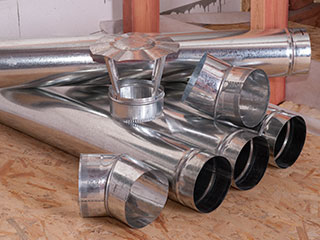 You cannot know what the condition of your HVAC ducts is until they are fully inspected. However, there are clear signals that something may be wrong. The most notable sign is rise in the energy bills that you pay. You may also get more dust in the room. The important thing is to identify the cause of the problem and deal with it as soon as possible.
Air Duct Cleaning
In many cases, the red flags described above are due to contamination of the HVAC ductwork. Inspection of the inner surfaces will reveal the cause of the issue. When there are accumulations of dust, dirt and pollen, they should be extracted. The use of powerful yet safe equipment is essential for getting top results without causing damage to the ducts. Mold and mildew have to be removed with materials designed especially for the purpose.
Duct Repair
A thorough inspection will reveal not only dirt accumulations, but damage as well. If there are a few minor air leakages, repair should be sufficient for resolving the problem. Small holes can be effectively filled with airtight material which is resistant to environmental damage and has a long useful life. If necessary, the condition of the seal should be restored as well.
Air Duct Replacement
In case of major damage caused by water, mold or any other factor, new ducts have to be installed. The first step involves getting the blueprint and the measurements of the ductwork. This makes it possible to come up with perfectly matching replacement components. The new ducts should be highly resistant to all kinds of damages and have a long estimated useful life. They should have high thermal resistance for achieving the maximum possible level of energy efficiency. The old components have to be removed with care while the new ones should be installed with perfect precision. Tight and secure fit is essential.
Duct Sanitizing
If the ductwork has been affected by mold in the past, it is wise to take measures for preventing future growth. Sanitizing is a highly effective solution. It involves the treatment of the surfaces with special materials or UV cleansers so that fungi and other microorganisms cannot grow on them.
Count on us to complete projects of any size and level of complexity. This is one of many professional and effective solutions that we provide to our customers along with duct maintenance, cleaning and repair. It is designed to eliminate major issues that cannot be resolved in any other way. When you work with us at Air Duct Cleaning Hercules you can expect perfection in every respect. You will receive the full servicing that you require from consultation during the duct selection process to treating the newly installed components for preventing mold growth. For getting a timely solution, call us or send a message. Do not miss to get more details on our services from our website.