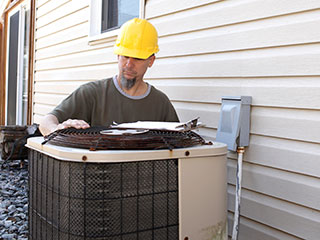 If your HVAC unit is malfunctioning, it can have many negative consequences on your home including your energy bill. However, by regularly cleaning your unit, you can prevent dust and contaminants from clogging up your air filters and circulating pollutants throughout your home. Luckily, HVAC unit cleaning is a breeze when you contact our local team of trained professionals.
Checking It Out
Prior to HVAC unit cleaning, our professional team will carry out thorough maintenance checks. These checks not only include all mechanical components but will also help to highlight any defects. Our technicians will make certain that your unit has no hidden issues before undertaking a thorough cleaning. They will also ensure that your unit is up and running smoothly once more.
Benefits Of Air Quality Testing
If you are concerned about outside pollutants infiltrating the inside of your property, then it's time to arrange an appointment for air quality testing. Testing is a great way to identify the number of nasty particles circulating throughout your home and gives our technicians the opportunity to inspect your air ducts for any leaks. With your HVAC unit turned on, our highly trained team has the professional equipment to carry out air quality testing. In doing it this way, you will get accurate results to help you make an informed decision about the best way forward.
Become Part Of The Solution
It's great to have a clean HVAC unit, but if you neglect to take care of any problems your unit is experiencing in a timely way, then it can be money wasted. Apart from any potential risks to you or your family's health, not to mention result in unexplained increases to your energy bill. If you are concerned about your HVAC unit, our team of local experts in Hercules, CA is on hand to provide the solution.
Contact Us For Assistance
If you need help with your HVAC unit then our skilled professionals at Air Duct Cleaning Hercules are the winning team. For cleaning, maintenance or repairs contact us for assistance today.