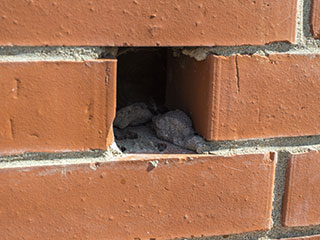 Dryer vents will accumulate lint, dust, and dirt over time, gradually leading to restricted airflow. This can ruin the effectiveness of your dryer, damage clothes, and even pose a fire risk. Exhaust air from your dryer needs to be vented quickly. If the dryer vent ducts in your Hercules property become clogged or blocked, which can easily happen, you may end up with higher heating bills and even a potential fire hazard. Unfortunately, it can be hard to tell when the vent for your dryer exhaust has become blocked, so it's important to understand why and how this happens.
Hercules Dryer Vent Clogging Solutions
As your clothes dry they often give off lint. Although this is supposed to be caught in the lint trap, some of it inevitably finds a way into the exhaust vent instead. In itself, this isn't a problem, but over time these little pieces of material can get caught and start to accumulate within the vent. Even the smallest obstruction can be enough for lint to build up around, quickly becoming larger and larger. Clogged dryer vents become problematic for the efficiency of the machine. But besides not drying the laundry correctly, they pose another risk. Fire. Clogged dryer vents become a fire hazard that needs taking care of as soon as possible.
Problems With Dryer Vent Blockages
If hot air is unable to vent properly from your dryer, you'll find the machine loses effectiveness. This will usually mean that clothes take longer to dry and require a longer cycle, or even multiple runs to reach the desired dryness. With heating being one of the most energy-intensive forms of electricity usage, this leads to much higher electricity bills. Our professional Hercules dryer vent cleaning services assist in preventing blockages and clearing them out. Should the dryer vent get blocked due to clogs or debris, you'll need to clear out the blockage to allow unrestricted airflow to resume.
Potential Fire Hazards
Lint is extremely flammable, and allowing it to accumulate in an area that will be repeatedly heated poses a fire hazard. Not only can lint combust itself, but it can also lead to temperatures in the dryer reaching higher levels than it's designed to handle, potentially damaging your clothes or even setting fire to the appliance. Dry lint and fabric can catch fire, especially with an already warm and stuffy environment. Clogged dryer vents become literal hotbeds for such problems. The fire hazards become bigger and bigger the more you use the dryer with a clogged vent. So don't put yourself and your property at risk and hire the nearest Hercules dryer vent cleaning service specialists to clear out blockages and minimize fire hazards.
Prevent Problems With Regular Dryer Vent Cleaning
It's hard to know whether your dryer vents are blocked or not - often these ducts will be hidden out of sight. However, you can't afford to wait until the problem becomes obvious. If a fire catches, it can become too late. To schedule a thorough dryer vent cleaning service that guarantees your dryer vents will be clear and unobstructed, give us a call. Our local Hercules dryer vent cleaners can clear blockages and clogs in dryer ducts and more. Need urgent service? Call our 24/7 hotline for urgent assistance.